Tips to Help New Parents Save Money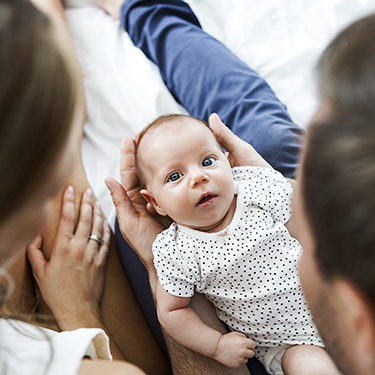 Being a parent is incredibly rewarding and will change your life in many ways — most for the better. But, if you're a new parent, you may be feeling overwhelmed with the expenses that come with having children. We'll look at some of the biggest expenses and ways to cut them down so that you don't break the bank.
According to a recent USDA study, parents spend between $12,980 and $14,800 a year on childcare expenses, including daycare, clothes, groceries, toys, and doctor visits. However, 29% of this cost is housing, a necessary expense for the entire family. Other expenses can be managed by creating a budget and following it closely. Read our tips below on ways to cut your budget and plan carefully as a new parent.


Save Money on Groceries
On average, food accounts for 18% of annual spending for families, and with a little one in the house, you will put in more time and money at the grocery store. Making a meal plan and avoiding fast food stops goes a long way in lowering your food costs. Find tools online like MyPlate.gov for tips to prepare budget-friendly meals.
When you're shopping in-store, read the price labels to determine the best deals. The unit price is usually smaller than the retail price, but it will let you know how much an item costs per ounce, pound, quart, etc. The unit price for the store's brand is usually lower than the name brand product. Buying in bulk or larger quantities can also lower the unit price.
Shopping in the frozen section can cut costs as well as reduce waste. Buying poultry, fish, and other meat items frozen is less expensive and gives you more options when planning meals. Frozen fruit and vegetables may not be as healthy as buying fresh, but it also saves you the expense of throwing those out when they begin to spoil.
Also, look for coupons and sales at various retailers and grocery stores. Download the store's mobile app to receive any deals, savings, or digital coupons that are offered. Planning and shopping with coupons save you money with minimal effort.
Get Creative With Childcare
Childcare and education comprise the third-largest percentage of childcare costs at 16%. For many parents, this cost cannot be avoided. If you are straining to cover this expense, visit ChildCare.gov to see if you qualify for financial assistance. The site has resources for childcare, groceries, health care, and more.
If you don't qualify for assistance, get creative with other ideas to cut costs, including:
Ask a family member if they can help, even part-time: Many daycares offer "partial" care packages where your child only attends 2–3 days out of the week. These options are discounted when compared to full-time care. If a family member is willing to provide care for the off days, you can save a considerable amount.
Enroll in a school-based childcare center: Numerous high schools and colleges across the country provide on-site childcare, staffed by students. Check your local school district or nearby colleges to inquire about programs, availability, and cost of enrollment.
Share the cost of a babysitter or nanny: Some families share a sitter or nanny and split the cost. The babysitter will likely charge more money for caring for two or more children instead of just one, but the cost will still be less expensive than each family hiring separate sitters.
Consider a flexible work schedule: Many workplaces are now familiar with working from home and alternating schedules when working in the office. It's worth asking your supervisor if this is an option during the first months after the baby is born. While it's challenging to balance taking care of a newborn while working, it's an option worth considering as childcare is more expensive in the first few years.


Order Your Baby Supplies Online
The average parent goes through more than 2,000 diapers in the first year. Unless you're committed to cloth diapers, the cost is significant. Shop online for the lowest price per unit for diapers and formula, consider shopping the store brand, and buy in bulk for savings. If you prefer the name brands, sign up for their rewards programs. Online subscription services can save you money depending on how many items you choose, and the supplies are delivered right to your door. Check the details of these programs to see if they're right for you.
If you are asking for car seats, be sure to check the expiration date, as heat and other environmental factors make these break down over time.


Swap Baby Items
If you had a baby registry and find yourself overwhelmed with products you don't really use, you can swap these items or sell them for the items you need. Ask family and friends leaving the baby phase for clothes, blankets, baby swings, playpens, etc. You can also check online groups on Facebook, just be safe and always meet in a public place when swapping with someone you don't know. If you are asking for car seats, be sure to check the expiration date, as heat and other environmental factors make these break down over time.
Save on Other Expenses
Review your expenses and take steps to cut your costs where you can (e.g., adjusting the thermostat, cutting out a subscription service, switching to less expensive plans for internet or cable, etc.). You'll be spending most of your time at home in the early days of parenting, so use that opportunity to cut back on restaurants, gym memberships, and other activities that stretch your budget. As your little one gets older, use creative stay-cation ideas instead of spending money on traveling.
You might also look at your insurance plans to see if you can save by bundling or changing policies. Insurance policies aren't one-size-fits-all, so you need to ask if your current policies and companies are the best fit for you. Our insurance agents at Texell Insurance can help shop policies to help you find the coverage you need within your budget. Call 254.774.5181 or visit Texell Insurance to learn more.
Being a new parent has its ups and downs, but you can reduce your financial stress with creative solutions and finding help. These simple steps can get you started on the right track to saving time and money as you adjust to all the fun and joy of your new family.
If you wish to comment on this article or have an idea for a topic we should cover, we want to hear from you! Email us at editor@texell.org.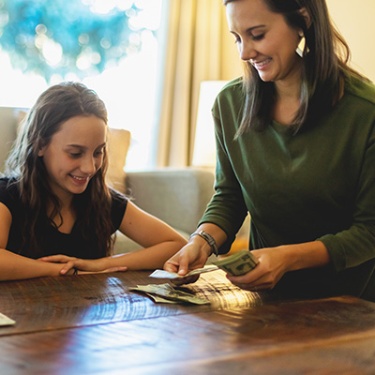 Building a Basic Budget — Part 1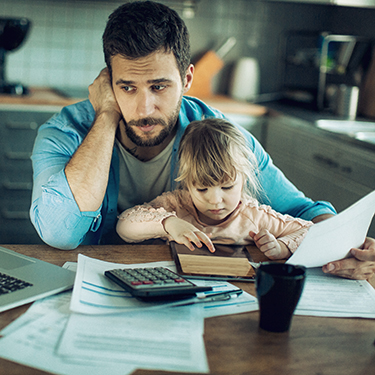 Popular Strategies to Get Out of Debt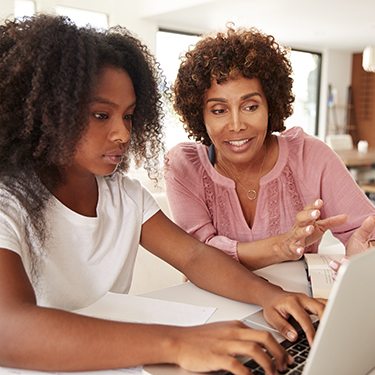 7 Ways to Pay for College Without Debt