Building vs. Buying a Home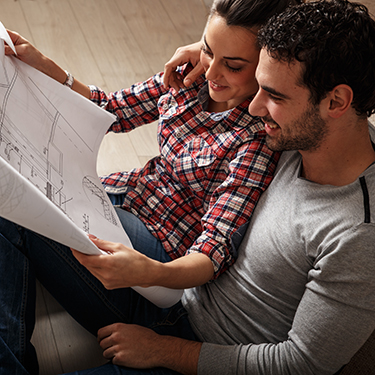 When you start thinking of your next home, will you search the market and buy, or purchase land to build your own? Starting with only a plot of land and your vision can seem overwhelming, but there are advantages to owning your land and planning the home of your dreams. Let's look at the pros and cons of building vs. buying a home.
Pros of Building a Home
By purchasing your land and building, you'll avoid the competition that comes with other homebuyers driving up the price of a house for sale. You'll also have the flexibility to decide when to start building. You could finish paying for your land loan in a few years before building your home. Keep in mind, however, that the costs of building materials can continue to rise the longer you wait.
Once you find the perfect land to build your home, you can plan carefully with energy-efficient solutions. Seek options for the most energy-efficient appliances, fixtures, windows, and more. Having the freedom to choose the building materials gives you more flexibility and helps you avoid inferior materials that will require frequent repairs and maintenance. The lifetime savings justify the cost of using top-quality materials.
If you are outside city limits, you can develop your land with livestock, gardens, crops, or even beekeeping. Using your land for these purposes could qualify for an agricultural and timber tax exemption. Visit the Texas Comptroller's site and consult with your tax advisor if you're interested in this exemption.
Cons of Building a Home
One downside to building your home is that you will have to prepare the land. Clearing the lot, bringing in utilities, and building a road require extra effort and expense. You'll need to work with a crew of experts to make educated decisions and execute them along the way. Although your builder should coordinate road construction and utilities, these steps could bring added stress if you're not prepared for the long process of building a home from the ground up.
Another factor to consider is the rise in construction costs due to material shortages. Labor and material shortages extend construction timelines and budgets. Waiting a long time for some materials can affect interim financing on a construction loan. Although you'll only be responsible for the interest rate during the construction loan, consider interest rate fluctuations and be prepared to adjust your budget accordingly. If you have to wait too long for materials, you'll need an extension which usually brings an increase in the interest rate. About 25% of building costs go toward finishing materials, including flooring, cabinets, doors, etc. If you are willing to cut costs on these items or install them yourself, you will save on your build.
Pros of Buying a Home
Buying a preexisting home is a much simpler and quicker process than purchasing land and planning a new build. Search for a house that's move-in ready with all the features you're looking for in a home, so you won't have the costs of upgrading or adding on later. Your lot and landscaping will likely be established, eliminating the expense of planting trees or plants.
When determining your budget for the loan, add in the down payment, closing costs, property tax, and other fees.
If your house is older, you can plan for renovations when you have the time and funds available. Make sure to have the home inspected before you sign the loan. This will help you decide if you're ready to take on the expense of any repairs, and you can negotiate with the homeowner on the price if there are considerable costs.
Another advantage to buying a home is that there are fewer surprises regarding the preapproval process and acquiring a home loan. Building a home can bring unexpected costs avoided by purchasing an established home. When determining your budget for the loan, add in the down payment, closing costs, property tax, and other fees. Read "How Much House Can I Afford" from Texell's Articles and Advice for more information.
Cons of Buying a Home
If you decide to buy a home, you should consider the current market. In a seller's market, you may be tempted to pay more than you've budgeted, or make decisions quicker than you are comfortable. It may also take you longer to find a house that's within your budget, and you won't have as much bargaining power as you would in a buyer's market. Being locked in a bidding war is never an ideal situation.
When you're purchasing a home, you can expect maintenance costs and repairs, even if the house is not that old. Building materials and appliances in homes more than a decade old will not be as energy-efficient as a new home. Windows that allow air to leak and lack tint or shades can drive up your energy bill. Older appliances, plumbing, electricity, and HVAC systems can also be costly to repair. A home inspection can help determine the most expensive repairs and help you decide if you should purchase the home.
Another downside to buying a home is that you have fewer options when it comes to neighborhood Homeowners Associations (HOAs). Many have restrictions along with fines if you don't comply, so research the HOA before buying. If you find a home that isn't in an HOA neighborhood, there can still be city restrictions that you will need to follow. Before starting a renovation project, look at building permit requirements to stay in compliance.
Land Your Dream Home with Texell Home Loans
Whether you decide to build or buy your next home, Texell's Home Loan Heroes are ready to help. We offer land loans to get you started on your build, or if you decide to buy, our home loans include conventional, FHA, VA, USDA, and Jumbo.
Get started at TexellHomeLoans.com. You can also call or text at 254.774.5104 or email mortgage@texell.org. We're looking forward to helping you find your new home.

If you wish to comment on this article or have an idea for a topic we should cover, we want to hear from you! Email us at editor@texell.org.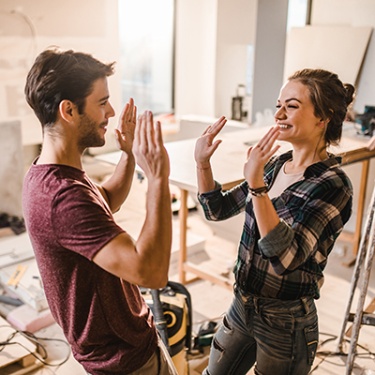 4 Home Improvements That Pay Off